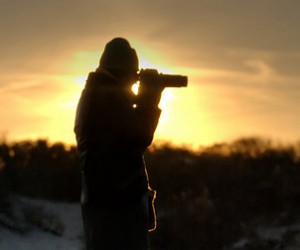 With more than twenty years of experience across virtually every communications genre, Renee Fischer has the ability to find the most compelling angle to a given story and conveys it with clarity, intrigue, compassion, intellect and humor. With a background in writing news articles to ad concepts, shooting photos on the fly and with more elaborate lighting set ups, Renee's versatility may be best highlighted through the documentary films she produces, directs, writes and edits.
In the past, Renee had the opportunity to travel to places like Guatemala, Kosovo and Rwanda as the director of broadcast media for Catholic Relief Services. She also immersed herself into the world of emergency medicine as an associate producer for the Discovery Health series, "The Critical Hour." Since 2005, she has worked as a senior associate director of Development Communications for Johns Hopkins University, producing award-winning films, while also shooting still photos and contributing to the editorial team.
She graduated with honors and a double major of Communication Arts and English from the College of Notre Dame of Maryland. She earned her M.A. from Stanford University in documentary film, with her thesis film "Those Who Trespass" winning a Student Academy Award.
Her still work has been published in a variety of print and web publications, and her independent film work has been screened at multiple film festivals including the Maryland Film Festival, Cinequest, the DC Independent Film Festival, and the United Nations Association Film Festival.
Her most recent venture, Spring and Fall Productions, LLC, has just completed a documentary, "Book By Its Cover," about inmates participating in a reading program which provides the opportunity to have contact visits with their children. This film was nominated for a regional Emmy.